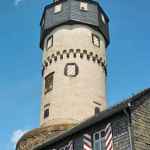 (Friedberg Warte of Bornheim)

The history of Bornheim
The beautiful Bornheim is since January 1. 1877 part of the metropolis of Frankfurt am Main. It is bordered to the north corner home and Preungesheim, in the west of Northrend, in the south of Ostend and is located in the east above the Rieder Forest and the Bornheimer slope. However, the limits of today's Bornheim no longer coincide with the boundaries of the historic church, for Bornheim has to tell an exciting story that goes back well into the 12th century.
For the first time Bornheim is mentioned in records in 1194 and since then experienced an exciting, historically verifiable history. It is one of the most fundamental rule of the King Palatine franconofurt and bonds to the rheinmainische imperial territory are in the country right of the "King County Bornheimer mountain" survived. This binding is threatening to tear 1320 pledged as King Louis County to the Lords of Hanau, but the close connection to Frankfurt remains. You will. By selling the Bornheimer rights by the rogues from Bergen to Frankfurt, next Hausen and Oberrad, Frankfurter village.
Over time, many corridors, such as the Bornheimer Heide that contribute to Bornheim as a destination is becoming increasingly attractive result. In the 19th century, the population rises to 1400 as a result of Bornheimer recreational value and is due to its hospitality as "funny" village known far and wide. By the close connection to Frankfurt Bornheim wins also structural changes: in 1827 the first water pipe is installed in place in 1863, the first gas lighting installed, launched 1864, the first public school (school Kirchner) to life. As a result, in 1867 the population of Bornheim rises to 5,000 inhabitants.
Other cultural appreciation experienced the village by the Baron Carl Mayer von Rothschild, who settles in Bornheim and Frankfurt by the city gardener Sebastian Rinz the Gunthersburgpark is applied. In this context also caused the little castle Günthersburgpark and the Rothschild economy Luisenhof 1864/66 (now Urban fleet). An incision Bornheim experienced by the Prussian occupation, but after deducting the incorporation of Bornheim (1877) to the city district of Frankfurt a result. The residential areas stretching out into the period of rapidly altering garden areas towards Bornheim and Bockenheim. Thus, village and city are getting closer and by the close connection that exists between them since the very beginning, establishes a stable community today. With Bornheim Frankfurt grows to 7440 hectares and gains additional 10,085 inhabitants.
As a new district of Frankfurt, the upswing now takes place in rapid succession: 1897 moves the horse tram in the city center, 1883 Lersnerschule opened, 1891 acquires Frankfurt Guenther castle grounds, in the following year the Gunthersburgpark opened in 1895 created the Rothschild Avenue.